Once again we are focusing on the preparations necessary prior to dispatching a consignment of aid items to our team in Romania. The area that we help is one of the coldest in Romania – it escaped the searing heat of the summer but is now one of the first areas to experience the winter chill. Once again we will be concentrating on clothing and bedding, including the knitwear that so many people send us.
A report from one of the groups that support our work:
"We are St. Mary's Church Thornbury and Rotary, Inner Wheel Ladies Group Thornbury. We both meet once a month for 'Knit and Natter' and to hand in our efforts. we had a great morning – old friends meeting up – over 50 folks including 3 brave fellows. We met folks from the other knitting group for the first time. There was a display of our goods that are now packed and on their way this morning – hopefully to catch the next lorry – about 11 blankets. We raised money for transport of our boxes and to raise awareness – we did both! £470"
AN does not keep separate records of the donation of knitted items as they are donated together with other clothing and bedding. In November we made some 250 donations of clothing and bedding totalling 1.75 tons; this compares with a similar number of donations totalling 1.1 tons during November 2021. We trust that the distribution of these goods will honour the efforts of those who provided them as well as bringing comfort to the recipients.
Christmas break – Our teams will be taking their usual Christmas break after next weekend, the Horley packing team will be meeting as usual on Friday 16th and the Billingshurst warehouse will be open on the 17th, then both will be closed until the 6th and 7th January respectively. After a year with both complications and successes we express our gratitude to those who are willing to use their skills to help people that they will never get to meet.
This month's featured photos
Ways of staying warm
Knit and Natter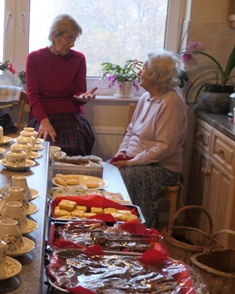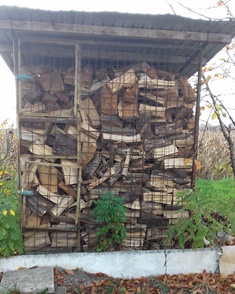 Last month's statistics
Categories
November
2022
Same month
last year
% Change
year on year
Registered Beneficiaries:
joiners / leavers
17 / 41
22 / 34
Beneficiaries this month:
163
183

-11%

Number of Donations:
182
201

-9%

Total Value of Donations:
(£ equivalent)
2,995
2,091

43%

Exchange Rate,
RON to GBP
5·6541
5·8324

-3%
Stats notes:
– Joiners are new registrants this month, Leavers are are those whose latest recorded donation was 12 months ago.
– Some households may receive more than one donation during a month (eg, repeat donations of food).
– Items shown as 0 or as "…" are awaiting final returns for the month.
---

Previous month's news, November 2022
This Month's Prayer Notes
..
Link to this month's Prayer Notes