---

The information given in this page was correct at the time of preparation. However, in the current circumstances, regulations and activities can change on a daily basis and it is not possible to keep these pages entirely up to date. Please refer to our "Please Note" page for the latest information.
---

In the UK all activities involving person-to-person contact including packing and transport have been suspended during the present crisis:
– Friday packing sessions are suspended;
– Normal warehouse activities are suspended;
– Team meetings are moving to digital media;
– Lorry departures are postponed.
The monthly Prayer Notes and the websites will continue to be published as normal.
You can keep up to date via our website link above.
The clothing collection box at St Francis Church in Horley has been renovated. Our thanks to Jim for doing this and, of course, to all those who will make good use of the box once the restrictions are lifted. This box and the one at Billingshurst are still accessible for the deposit of clean, wrapped clothing. However, the collection routine is subject to disruption so please do not leave any items outside the boxes.
Spring has officially arrived in north-eastern Romania although it feels like it has been here for several months already. Trees and flowers that should be starting to produce buds are well advanced. However, the absence of a proper winter has its downsides. Snow which would have melted slowly into the soil has been replaced by rain which runs off into ditches and this may compromise this year's crops. In a normal year the arrival of Spring would bring increased opportunities for employment in construction and agriculture. This year the situation is very different, with local residents competing with those who have returned from abroad.
A nation-wide curfew means that activities are now very limited. The office remains open, with reduced hours; the numbers of those asking for help is lower than normal and we are having to ration the amount of food that we can give. We are unable to provide any cash help at present. The shop is still open, but again with limited hours. At present it is covering its staff costs but little else. At the warehouse we still have good stocks of clothing and bedding, and knitwear suitable for the elderly and very young. We do have a quantity of gardening and DIY tools that we can give to those who can make use of them to help themselves.
The residents at Casa Neemia are confined to the premises and a strict hygiene regime has been introduced. We are able to supply daily meals for them and they are still able to work outside in the garden and polytunnel under certain conditions.
This month's featured photos
Refurbished drop-box in Horley
Lunch at Casa Neemia
Aid awaiting dispatch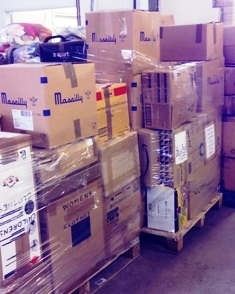 Photo Gallery: Click on any of the photos for enlargements, more details or similar photos.

Last month's performance statistics
These statistics give a snapshot of our aid-related activities last month.
Categories
March
2020
Same month
last year
% Change
year on year
Registered Beneficiaries:
joiners / leavers
17 / 41
13 / 52
Beneficiaries this month:
156
176

-4%

Number of Donations:
183
190

-11%

Total Value of Donations:
(£ equivalent)
3,992
6,925

-42%

Exchange Rate,
RON to GBP
5·4128
5·5380

-2%
Stats notes:
– Joiners are new registrants this month, Leavers are are those whose latest recorded donation was 12 months ago.
– Some households may receive more than one donation during a month (eg, repeat donations of food).
– Items shown as 0 or as "…" are awaiting final returns for the month.
---