The start of a new year is a good time to repeat our thanks to all those who supported our activities during the past year – may God bless you!
We were able to send our December lorry in time for Christmas, it arrived promptly with no significant problems en-route or at the customs inspections. The load comprised mainly clothing and bedding but it also included a number of boxes from people who support particular families. As with last year, sponsorship from the UK allowed the team in Dorohoi to prepare Christmas bags with some basic groceries and a few special items for needy families. This way of helping needy people is better targeted and more efficient than a general distribution of shoeboxes. The recipients' thanks are passed on to those who contributed to the purchase of Christmas bags or sent boxes to the families that they support.
In more detail, the Christmas bags contained groceries including sugar, flour, pressed ham, cheese, tomato paste and sponge cake. Each bag also contained a selection of fruit, biscuits and sweets, plus, where appropriate, some items from our general stock, depending upon availability and the household make-up. The average value of bought items in each bag was ₤14; a like-for-like comparison of the price of the groceries mentioned against last year's prices shows an increase of some 50% year on year.
There is a widespread pessimism in Romania about what the new year may bring. A recent survey revealed that only some 25% of respondents expected 2023 to be better than last year; this feeling is exasperated by a high rate of inflation and by the proximity of the war in Ukraine.
This month's featured photos
Preparing gift bags
Christmas gifts
Sponsored families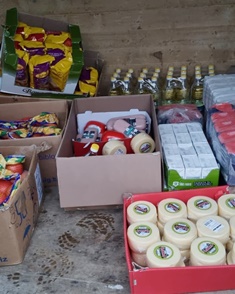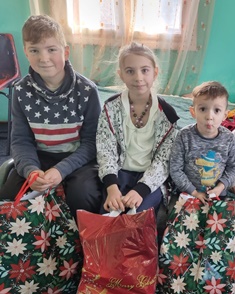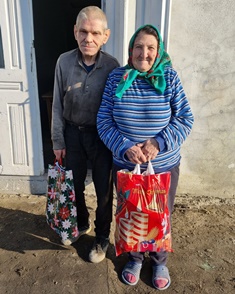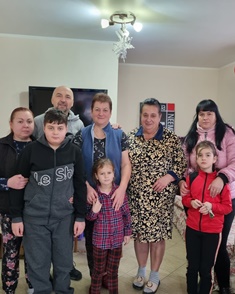 Last month's statistics
Categories
December
2022
Same month
last year
% Change
year on year
Registered Beneficiaries:
joiners / leavers
17 / 102
40 / 90
Beneficiaries this month:
192
278

-31%

Number of Donations:
223
308

-28%

Total Value of Donations:
(£ equivalent)
3,889
7,817

-50%

Exchange Rate,
RON to GBP
5·6565
5·8264

-3%
Stats notes:
– Joiners are new registrants this month, Leavers are are those whose latest recorded donation was 12 months ago.
– Some households may receive more than one donation during a month (eg, repeat donations of food).
– Items shown as 0 or as "…" are awaiting final returns for the month.
---

Previous month's news, December 2022
This Month's Prayer Notes
..
Link to this month's Prayer Notes