Packing is proceeding quietly so far this year; consequently the team has decided to meet fortnightly until after the summer break. The remaining packing dates at Horley are 23rd June, 7th and 21st July. A member of the RoAF team will be at the church on the intervening Fridays, to receive donations as normal. The warehouse at Billingshurst will be open each Saturday as usual, until the end of July. The normal weekly activities are are due to restart on 2nd September.
A further load was dispatched to Romania on 3rd June; many thanks to those who helped to prepare the goods and to load the lorry.
The latest consignment of aid has arrived in Romania with no difficulties en-route other than those that might be expected during what was a holiday weekend in much of mainland Europe. The load then had to be inspected by consumer protection officials and assessed by customs officers before being released for unloading. We have come to expect that the rules will change on each occasion, and this time was no exception.
With a bit of back-and-forth with paperwork and good will on both sides the load was released and unloaded by a joint Romanian-Ukrainian team. Romania's strict rules have been introduced as a fight-back against the dumping of substandard items from elsewhere in Europe. After the inspections were complete the officers commented that they were impressed by the quality of the items that had been sent.
A joint Romanian and Ukrainian team was on hand to unload the lorry. As we have no capability for handling loaded pallets each pallet has to be unwrapped and the separate boxes carried into the warehouse. This gives us a more detailed idea of what the load contains and is an opportunity for the boxes and other items to be sorted according to content into specific locations in the warehouse. We are, once again, very grateful for the amount of effort that goes into sending these loads.
Children's Summer Camp The camp at Voronet was closed for a couple of years due to COVID restrictions but it is open again this year. We are hoping to take some 30-40 children, for the period 26th June to 1st July. We have been offered generous sponsorship for the camp this year but, as with almost everything in Romania, the costs have risen significantly and that may affect the number of children that can go. More details about the camp are on our website here.
This month's featured photos
What goes in …
… must come out
Mobility aids, paper for schools, household tool kits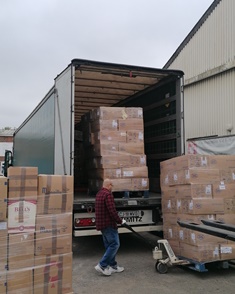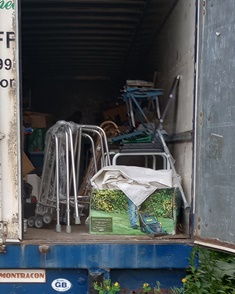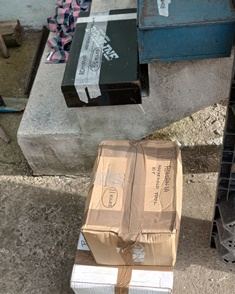 Last month's statistics
Categories
May
2023
Same month
last year
% Change
year on year
Registered Beneficiaries:
joiners / leavers
20 / 34
20 / 39
Beneficiaries this month:
147
150

-2%

Number of Donations:
176
177

-1%

Total Value of Donations:
(£ equivalent)
2,843
3,059

-7%

Exchange Rate,
RON to GBP
5·6801
5·7913

-2%
Stats notes:
– Joiners are new registrants this month, Leavers are are those whose latest recorded donation was 12 months ago.
– Some households may receive more than one donation during a month (eg, repeat donations of food).
– Items shown as 0 or as "…" are awaiting final returns for the month.
---

Previous month's news, May, 2023
This Month's Prayer Notes
..
Link to this month's Prayer Notes