We enjoy an Indian summer in the south of England. We also enjoy a very encouraging intake of clothing items at Horley Baptist Church on Friday afternoons. A lorry is expected to leave our warehouse in Billingshurst with a full load of 22 pallets of very good quality items, on 14th October. We are hoping that a further load in December will empty this warehouse before Christmas. A very big thank you to our friends in south Wales who sent us eight pallets of clothing, bedding and shoes.
It will be 34 years this Christmas since the Romanian revolution. RoAF and AN were formally established in 1998 to give a more structured basis for the aid work which had started in an informal way some 5 years earlier. Our first lorries, supplied by ParcelForce, joined the very many from all over the U.K. in sending help of every description, but now the world's attention has moved elsewhere.
Back in 1994 the team installed a climbing frame in a village school then, some years later, a trampoline followed. The children have changed, the teachers have changed, the building has changed but those items are giving pleasure to a new generation of village children.
Next Saturday (14th October) we are planning to send our next lorry-load of clothing and other aid items to Dorohoi. The lorry will be loaded at our Billingshurst warehouse and a few extra hands are always appreciated. Thanks are, of course, due to all those in various locations who have helped to prepare these items for dispatch. As is common now, there is some incertitude surrounding which documents will be required for this load – the procedures do not remain constant from one load to the next so this can be a stressful time for our team in Romania.
New laws in Romania are intended to address the import of rubbish from other countries but these also affect our loads. We thank God that people in the UK are still willing to demonstrate the love of God through supplying help to those in need despite the complications of doing so.
This month's featured photos
Preparing the next load
Memories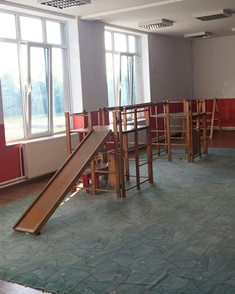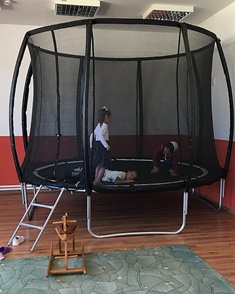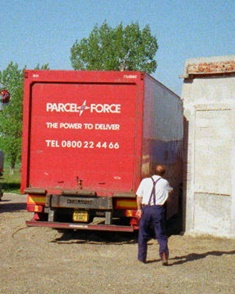 Last month's statistics
Categories
September
2023
Same month
last year
% Change
year on year
Registered Beneficiaries:
joiners / leavers
19 / 34
17 / 95
Beneficiaries this month:
178
192

-7%

Number of Donations:
214
223

-4%

Total Value of Donations:
(£ equivalent)
3,245
3,878

-16%

Exchange Rate,
RON to GBP
5·7636
5·6565

2%
Stats notes:
– Joiners are new registrants this month, Leavers are are those whose latest recorded donation was 12 months ago.
– Some households may receive more than one donation during a month (eg, repeat donations of food).
– Items shown as 0 or as "…" are awaiting final returns for the month.
---

Previous month's news, September, 2023
This Month's Prayer Notes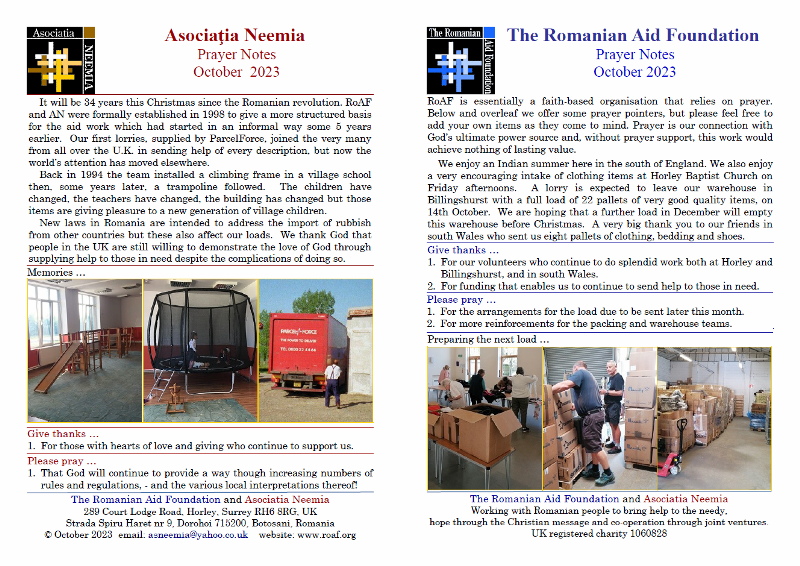 ..
Link to this month's Prayer Notes