In the UK, ongoing restrictions mean that we are not yet able to resume activities such as collections and packing in Horley. This also means that we cannot resume warehouse activities in Billingshurst. Activities in south Wales are similarly subject to local restrictions. We are actively working through the necessary export procedures in anticipation of sending a lorry after Easter but it is likely that the range of items will be more limited than before. We have withdrawn our previous list of priority items and will compile a new one once there is more clarity over what can be accepted.
In most years January is not a particularly news-worthy month. That does not mean that nothing happens but that the activities are largely part of our ordinary routines. There is little to be done on our various plots of land and no construction projects; the main activities are the donation of aid at the office and the distribution of firewood. We received a part-load which left the Isle of Man just before the end of last year and we still have stocks of clothing and other items which should be sufficient to allow us to continue helping the most needy until the transport situation becomes clearer. A very high proportion of households in this area need firewood for home heating and, in some cases, cooking. We have access to a limited supply of firewood and this is shared amongst the most needy families.
This year there has been the added complication of anti-virus measures to be observed. This has placed additional pressures on our staff, some of whom have been affected personally, and we are thankful that they have been able to adapt to the restrictions and continue to work with a positive attitude. We are encouraged, too, by the expressions of support from the UK.
A major preoccupation this month has been trying to find out the new procedures for the import of aid from the UK. This is new territory both for us and for many of the customs officers. In particular, we anticipate much greater scrutiny of what constitutes 'aid' items and the possibility that some items may be liable to import taxes.
This month's featured photos
sponsored boxes
new boots
firewood distribution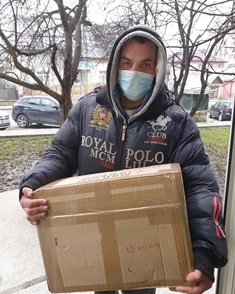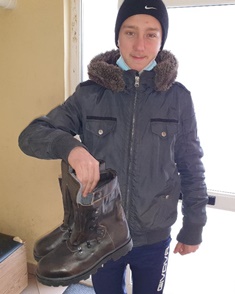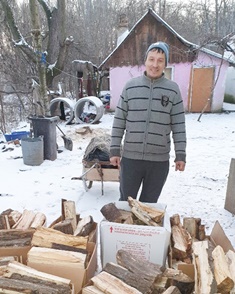 Photo Gallery: Click on any of the photos for enlargements, more details or similar photos.


The need to comply with social distancing and health protection measures means that the preparation of our news updates has been adversely affected; in particular in the number of photos that we can take and in keeping up-to-date with our donation statistics. Normal service with be resumed – but when?

Last month's performance statistics
These statistics give a snapshot of our aid-related activities last month.
Categories
January
2021
Same month
last year
% Change
year on year
Registered Beneficiaries:
joiners / leavers
23 / 54
18 / 57
Beneficiaries this month:
176
198

-11%

Number of Donations:
222
266

-17%

Total Value of Donations:
(£ equivalent)
4,177
6,817

-39%

Exchange Rate,
RON to GBP
5·4581
5·6235

-3%
Stats notes:
– Joiners are new registrants this month, Leavers are are those whose latest recorded donation was 12 months ago.
– Some households may receive more than one donation during a month (eg, repeat donations of food).
– Items shown as 0 or as "…" are awaiting final returns for the month.
---

Previous month's news, January 2021