For the 'first time in living memory' the Horley team has managed to achieve an empty warehouse – well nearly. There was a suggestion about using the space in a more orderly fashion but, as with most new years resolutions, that remains to be seen. We have, as yet, little guidance in what items can be accepted in what may become a more stringent post-Brexit customs inspection regime. However, such is the generosity of our donors that by the time that you read this the team will have started to restock and we are grateful to those who continue to donate, both in bulk and on a smaller scale.
As mentioned last month, some 95% of households (and 25% of schools) in rural Romania are heated with wood. The warmer weather during the past two months has reduced the demand for wood but it is still necessary to have some, for cooking as well as heating. Due to environmental concerns, firewood is becoming increasingly difficult to obtain legally but, following additional sponsorship, we were once again able to acquire a supply of firewood from a legitimate source and distribute it to some families who were unable to obtain their own.
However, this form of heating does come with its risks. AN has, on a number of occasions, been asked to provide emergency help for those who have suffered house fires. Most recently, at the end of January, two of our regular beneficiary households who both had lodgings in one house were rendered homeless by a fire which destroyed a major part of the premises. For one of them, it was the second time that a fire in a shared building had made him homeless, through no fault of his own. It is in these situations that stocks of bedding and clothing, plus essential household items, prove their worth. We cannot replace all that has been lost but we can at least help with immediate needs.
The dates for this year's children's camp have been decided. It will take place from 15th to 20th June, the first week of the summer holidays, and space for 40 children has been booked. As in previous years, this opportunity of a holiday is likely to be over-subscribed and it will be necessary to exercise some discretion in selecting the children and also the young people who will act as group leaders.
This month's featured photos
A warehouse awaits fresh stock
Loading logs makes you warm
Competing for space on the coach to camp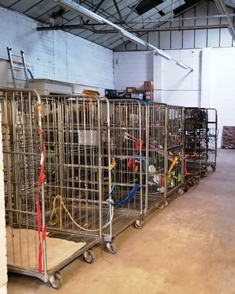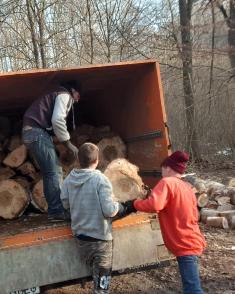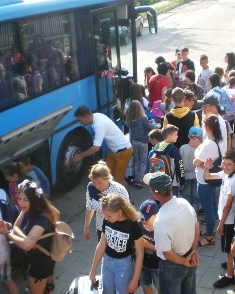 Photo Gallery: Click on any of the photos for enlargements, more details or similar photos.

Last month's performance statistics
These statistics give a snapshot of our aid-related activities last month.
[table id=<24> /]

Stats notes:
– Joiners are new registrants this month, Leavers are are those whose latest recorded donation was 12 months ago.
– Some households may receive more than one donation during a month (eg, repeat donations of food).
– Items shown as 0 or as "…" are awaiting final returns for the month.
---