The most memorable activity each December is the distribution of Christmas giftboxes and designated boxes for sponsored families. Christmas boxes prepared in the UK are shared amongst our registered families and a limited number is supplied to local kindergartens and village churches for distribution. Generally, the Christmas boxes are more suitable for children under the age of 14 but some have been prepared for older people and these are delivered appropriately. In addition to the Christmas boxes we also received boxes of a more general nature designated for specific households. This year, approximately 1,200 Christmas boxes were distributed, in addition to the sponsored family boxes. Photos of some of the recipients are included below and in our online photo gallery.
One family received a special gift. Some years ago, generous sponsorship had allowed Asociatia Neemia to buy a replacement house for a family whose own house was rapidly becoming derelict. The replacement house was old and lacking in facilities but it was basically sound and the agreement was that the family would work on the property and improve its facilities. This they have done and shortly before Christmas the property was transferred into their name as permanent owners.
The end of yet another year and the beginning of the next provides the opportunity to both look backwards with thankfulness and to look forwards in anticipation. What will 2020 bring? Will the new Romanian government actually deliver anything any different from its predecessors? As we pin up a new calendar with its encouraging texts, we are unlikely to find one with the words of Jesus when He said that the poor will always be with you. For those of us working to help the poor this offers the prospect of continuing employment, tempered by the knowledge that as some move out of poverty there will always be those with needs still to be addressed.
During the past ten years AN has registered some 5,000 recipients, mainly households but also including schools, churches and other organisations. Of these, some 1,080 households received material help during the past year. On average these goods were worth about £75 per household or about 4 times the monthly child allowance. In addition, we provided some institutions such as schools with stationery or village churches with giftboxes for the younger members of their congregations.
Throughout the year we have been asked for financial assistance. The rapidly rising prices for food and home energy mean that many people find themselves in difficulty, particularly when they have not been able to make any provision for unexpected bills. In so far as we are able, we try to help in the most deserving cases, and we are grateful to those who have made additional financial resources available for AN to use.
Throughout the year we have received generous supplies of foodstuffs, from sources in the UK and locally. Rice, oil, flour and sugar have been received in bulk, along with smaller quantities of tinned goods and other staples. This food is donated to families in need and is very much appreciated, especially in the winter months when supplies of other food may be limited.
The week before Christmas also saw the occasion of a sponsored hot meal for some of our 'wild bunch'. These are young people who, generally, have been brought up in the old orphanage system and have not been well integrated into 'normal' society. On this occasion, the meal was sponsored by a former resident of Casa Neemia who has gone on to make a better life for himself.
In rural Romania some 95% of households (and 25% of schools) are heated with wood. Due to environmental concerns, firewood is becoming increasingly difficult to obtain legally but, as a result of specific sponsorship, we were once again able to acquire a supply of firewood from a legitimate source and distribute it to some families who were unable to obtain their own.
This month's featured photos
A family received the deeds of their house
Christmas presents and sponsored Gift Boxes
Warmth comes in many forms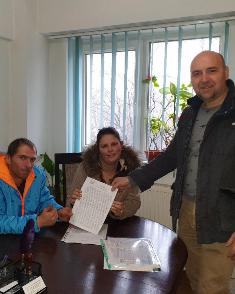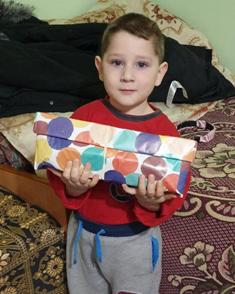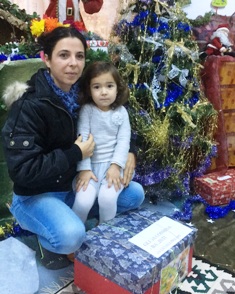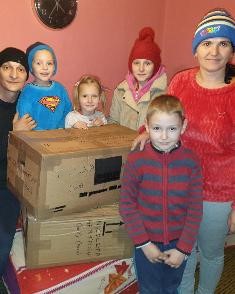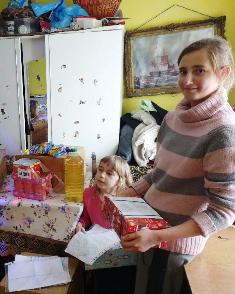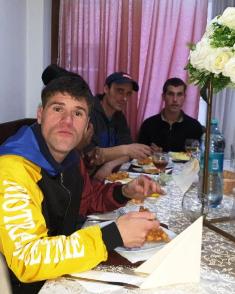 Photo Gallery: Click on any of the photos for enlargements, more details or similar photos.

Last month's performance statistics
These statistics give a snapshot of our aid-related activities last month.
[table id=<23> /]

Stats notes:
– Joiners are new registrants this month, Leavers are are those whose latest recorded donation was 12 months ago.
– Some households may receive more than one donation during a month (eg, repeat donations of food).
– Items shown as 0 or as "…" are awaiting final returns for the month.
---