After 12 years of serving the needs of our beneficiaries to its entire satisfaction, the Kangoo has finally been retired from service with AN. However, it will not be allowed to rust in peace – it has been donated to a local church leader who has the ability to work with its foibles and use it for the benefit of his congregation.

Periodically the stock at the shop is changed completely. The unsold items are made available for donation via the office and fresh stock is introduced. This generates a peak of interest amongst the shop's regular customers and there is usually a queue of eager people awaiting the magic moment of opening.
There are several main types of donations made from the office:
– Registered families with ongoing needs will have a regular programme of donations, mainly clothing and household essentials. The family confirms that it is still in need and then an appropriate selection of items is prepared for them to collect on a certain date.
– Ad-hoc donations are available to people who come to the office with immediate needs. A wide variety of stock is held at the office and our receptionists can donate items as appropriate. This includes things such as food, crutches and small quantities of clothing. Larger items such as wheelchairs and beds can be requested for delivery from our warehouse.
– Finally, depending upon the income from the shop, we are able to help those who need cash for fuel bills, medical expenses or other emergencies.
We recognise that all this is a result of the generosity and hard work of many people, in the UK and elsewhere, and pass on the thanks of those who benefit from your efforts

During the past few years the first week of the school holidays (for those in primary school) has taken on a particular significance as that is the week when some 40 children have the pleasure of going to camp. Most of the children behaved themselves and many were reluctant to leave. The most common complaint amongst those who made the shortlist seems to be that camp takes up only the first five days of the school holidays and it can't be made to last the full 12 weeks of holiday that Romanian children of this age enjoy.

Asociatia Neemia has the facilities to pass on designated items sent for particular families. We can deliver marked boxes, administer any financial gifts and provide feedback and photos. Recently we had the opportunity to visit a family in the north of Suceava county, taking for them some food, an electric scooter and a box of "goodies" that had been sent by a supporter in the UK.

Advance notice – the Horley packing team will be taking its annual August break next month. The final packing day for this session will be on 26th July and activities will begin again on 6th September. The Billingshurst warehouse will be closed for deliveries during August except by special appointment. Our teams in south and west Wales will be making their own arrangements and should be contacted directly.

This month's featured photos
Going, going, gone!
Eager customers awaiting the new stock
A special delivery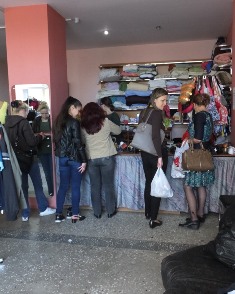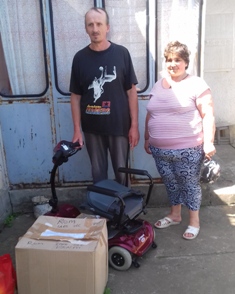 Last month's performance statistics
These statistics give a snapshot of our aid-related activities last month.
[table id=<16> /]

Stats notes:
– Joiners are new registrants this month, Leavers are are those whose latest recorded donation was 12 months ago.
– Value of stock includes items which have been used in AN projects but not yet written out of these accounts.
– Items marked as "?" are awaiting final returns for the month.
---