For those of you who have been following the progress of Samira, a little girl who was diagnosed with leukemia, the latest news is that tests show that following treatment in Iasi she is now 100% clear of the disease. She will need periodic check-ups and to be careful of her general health. Her family has expressed their gratitude to those who supported the family during this crisis.
Maintaining our vehicles is a constant necessity. AN's Renault Kangoo 4×4 has provided essential if occasionally unreliable service for over 10 years but it has finally reached the point where replacement has become urgent. The Kangoo has served us well for many years but the rigours of the work here and the increasing frequency of repairs mean that it will soon be time to retire it. The particular combination of seats, cargo space and 4×4 is not readily available on the second-hand market and the search for a replacement has been continent-wide. Using a legacy from John Andrew in Horley we have been able to purchase a nearly-new VW Caddy 4×4, which was located in Belgium and brought back to Dorohoi – it will commence active service once the paperwork is complete. The Kangoo is not dead, we anticipate donating it to a local church leader who has the necessary skills to make good use of it.
Over the years, RoAF has received several generous donations and bequests and it is a measure of God's guidance that these usually arrive just when some major expediture is due.
The delayed load from south Wales arrived during April bringing additional supplies of clothing, toys and food. Last month we provided goods to a total of 182 households using items donated in the UK and forwarded by our teams. Typically we receive 12-15 visitors per day asking for a wide variety of items, in addition to those people whose needs are financial such as help with medical costs, energy bills, etc. We cannot satisfy all these requests – recent shortages include men's trousers and spectacles – but we have been able to provide decorating materials and carpet tiles in addition to the usual range of clothes and food. We have been able to install a video screen in the office so that our visitors can watch a Christian TV channel during their visit.
One of the logistics problems that our packing teams face is obtaining adequate supplies of cardboard boxes. The Horley team receives boxes from a large hotel near Gatwick Airport which benefits from not having to make its own disposal arrangements. For south Wales, Richard is able to take the boxes from previous deliveries back for refills. Some of these boxes have three or four labels, which tends to confuse our unloaders.
The warmer Spring weather has triggered the planting season. We have been able to provide some seeds and garden tools to those who have the opportunity to use them. We have also prepared our own land with crops such as maize which will provide food for donation later in the year. However, springtime is not harvest and people are still hungry whilst they wait for their crops to mature so we still have regular requests for food donations. Thanks to generous people elsewhere we still have stocks of staples such as rice and flour which we can give to those in need.
For each of the past four years our Swansea-based team has sponsored places at a children's holiday camp in the mountains near Voronet. The camp is for children from our beneficiary families and it offers a break away from home for many whose parents could not afford a family holiday. The camp has a Christian context and it is always very popular. This year the camp dates are 17-22 June, the first week of the school holidays. Already we have had enquiries from parents eager to get their children on the list (and off their hands).
This month's featured photos
Many hands make light work
TV display in the office
Caddy joins the fleet
Many hands make light work
Send them back
Anticipating camp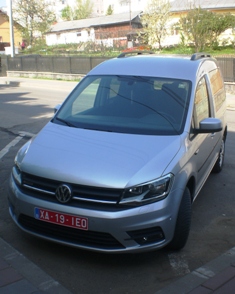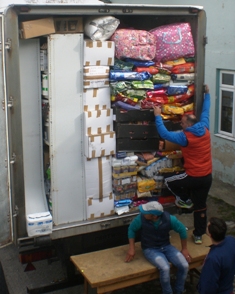 Photo Gallery: Click on any of the photos for enlargements, more details or similar photos.
Last month's performance statistics
These statistics give a snapshot of our aid-related activities last month.
[table id=<13> /]

Stats notes:
– Joiners are new registrants this month, Leavers are are those whose latest recorded donation was 12 months ago.
– Value of stock includes items which have been used in AN projects but not yet written out of these accounts.
– Items marked as "?" are awaiting final returns for the month.
---