A joint load from west Wales and Billingshurst early in September brought additional stocks of clothing and bedding, the latter in particular will be appreciated during the coming winter. The load also included more rice, oil and sugar which will help those adversely affected by the poor harvest and rising food prices. An additional local donation of foodstuffs was gratefully received, despite the physical effort involved in moving 300 kg of pickled cauliflower!
The lack of rain during the past three months has meant that our garden produce at Casa Neemia has not been to the quality of previous years. However, the polytunnel continues to provide good quantities of tomatoes, aubergines, chillies and peppers. Our housekeeper, Angelica, has bottled much of this produce and it will be available for the residents during the winter.
September proved to be a good month for construction projects. The AN project team has been involved with the building of a replacement house for a poor household in Dimacheni. The project has been sponsored by supporters in west Wales and local workers have undertaken much of the construction work itself. An additional benefit from this project has been that a young boy in the family has been allowed to restart school after a gap of two years. It will be difficult for him to catch up and we will need to encourage him to persevere in that effort.
From time to time we receive donations of medical items. Crutches, wheelchairs and similar items are always in demand. However, please do not send prescription medicines. These drugs are potentially dangerous if misused and AN does not have the expertise or the legal authority to distribute them safely. Local pharmacies cannot accept them and we then have the problem of disposing of them. Non-prescription medicines, vitamins, energy drinks and unopened in-date items such as bandages or syringes are still acceptable.
A reminder – Like it or not, Christmas is coming! Each year, AN distributes several thousand gift boxes to needy households in the area around Dorohoi. Due to impending Brexit uncertainty RoAF needs to send the boxes earlier this year so please try to have your gifts ready by mid-October.
This month's featured photos
Goods incoming, AN warehouse
New house at Dimacheni
Garden harvest, Casa Neemia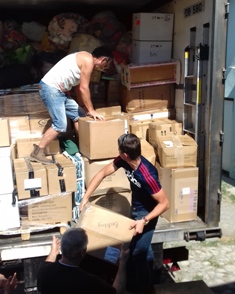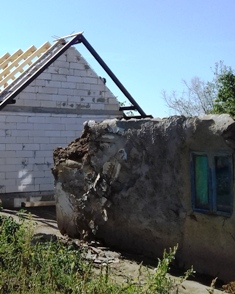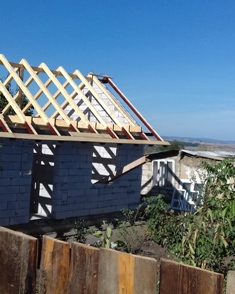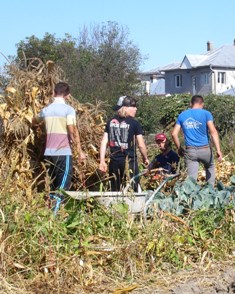 Photo Gallery: Click on any of the photos for enlargements, more details or similar photos.

Last month's performance statistics
These statistics give a snapshot of our aid-related activities last month.
[table id=<19> /]

Stats notes:
– Joiners are new registrants this month, Leavers are are those whose latest recorded donation was 12 months ago.
– Some households may receive more than one donation during a month (eg, repeat donations of food).
– Items shown as 0 or as "…" are awaiting final returns for the month.
---
Previous month, September 2019