In contrast to the first week of August when there is an influx of Romania expats returning home, the final weekend of the month sees their departure for foreign parts and a degree of relative calmness and normality returns. The summer peak in construction activity is past but local people can continue to build for several more months. Many poorer families are dependent on the earnings from casual work so they value the chance to earn a bit more money before the end of the season.
The end of the holiday period also introduces the need to prepare for the coming winter. Agricultural work will continue for a while but once the harvest is brought in most of the effort will go to preparing for next year's growing season. This is mainly a mechanical process, using implements drawn by tractors or horses, and so does not offer the intensity of manual labour that casual labourers need. This year the situation is compounded by a lack of rain at a critical time prior to harvest. Too much rain makes the ground impassable by machinery but too little stunts the growth of the crops as well as making the ground too hard to work.
September also brings the start of a new school year. We expect to receive many requests for help with the essentials – uniforms, stationery and bus fares. Fortunately we have good supplies of appropriate clothing as well as exercise books, pens, paper, etc, which have been sent earlier in the year, plus we have some classroom equipment suitable for donation to kindergartens.
A reminder – The start of Autumn means that it is time to think about Christmas! Each year, AN distributes several thousand gift boxes to needy households in the area around Dorohoi. Due to impending Brexit uncertainty RoAF needs to send the boxes earlier this year so please try to have your gifts ready by mid-October.
This month's featured photos
Goods awaiting transport, Billingshurst
Preparing for Autumn
Designated gift boxes – recipient families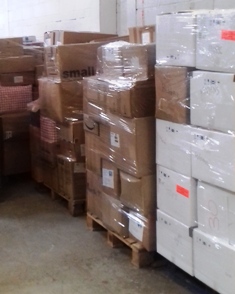 Last month's performance statistics
These statistics give a snapshot of our aid-related activities last month.
[table id=<18> /]

Stats notes:
– Joiners are new registrants this month, Leavers are are those whose latest recorded donation was 12 months ago.
– Some households may receive more than one donation during a month (eg, repeat donations of food).
– Items shown as 0 or as "…" are awaiting final returns for the month.
---