The need to comply with social distancing and health protection measures means that the preparation of our news updates has been adversely affected; in particular in the number of photos that we can take and in keeping up-to-date with our donation statistics. Normal service with be resumed – but when?
Current restrictions mean that we will not be able to resume person-to-person activities in Horley and Billingshurst such as collections and packing whilst they are in force. This also means that we cannot resume warehouse activities in Billingshurst. Restarting later in February will be dependent upon restrictions in force at that time.
Activities in south Wales are similarly subject to local restrictions.
Click here for the current UK news.
2020 may have gone but its effects will continue to be felt for some time to come. Many people doing "non-essential" jobs have found their income has shrunk dramatically but at the same time there have been some very significant rises in the cost of living.
Despite the difficulties, the AN team has continued to function and has provided help to needy people in this area. In 2020 as a whole, we made some 3,200 donations of clothing and other goods to 950 separate households. These donations had a total UK equivalent value of £56,000. These donations have included a variety of primarily food items which have been obtained locally. These opportunities for co-operation with other local organisations have meant that we have not been wholly dependent upon deliveries from the UK.
Financial assistance has continued but on a very limited scale as the income from the shop is also very low and we can help only the most deserving of cases. Extra sponsorship from the UK has been received for specific families and for general expenditure, and we are very grateful for this help.
This month's featured photos
A gift of happiness
A gift of essentials
A gift of warmth
Christmas gifts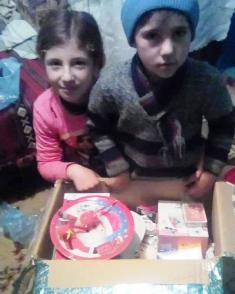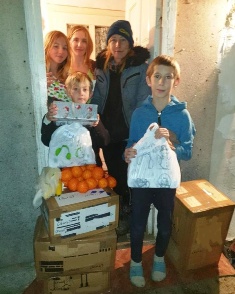 –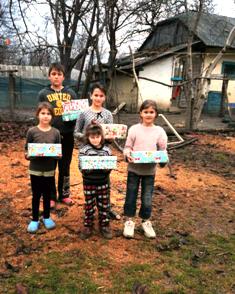 –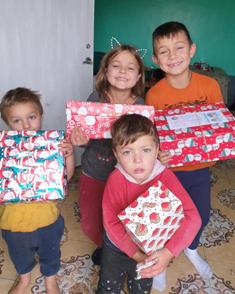 Photo Gallery: Click on any of the photos for enlargements, more details or similar photos.

Last month's performance statistics
These statistics give a snapshot of our aid-related activities last month.
Categories
December
2020
Same month
last year
% Change
year on year
Registered Beneficiaries:
joiners / leavers
25 / 124
26 / 96
Beneficiaries this month:
351
415

79%

Number of Donations:
744
416

-15%

Total Value of Donations:
(£ equivalent)
5,828
8,263

-29%

Exchange Rate,
RON to GBP
5·3779
5·6352

-5%
Stats notes:
– Joiners are new registrants this month, Leavers are are those whose latest recorded donation was 12 months ago.
– Some households may receive more than one donation during a month (eg, repeat donations of food).
– Items shown as 0 or as "…" are awaiting final returns for the month.
---

Previous month's news, December 2020