---

The information given in this page was correct at the time of preparation. However, in the current circumstances, regulations and activities can change on a daily basis and it is not possible to keep these pages entirely up to date. Please refer to our "Please Note" page for the latest information.
---

In the UK all activities involving person-to-person contact including packing and transport have been suspended during the present crisis:
– Friday packing sessions are suspended;
– Normal warehouse activities are suspended;
– Team meetings are moving to digital media;
– Lorry departures are postponed.
The monthly Prayer Notes and the websites will continue to be published as normal.
You can keep up to date via our website link above.
Most of our activities in the UK are undertaken by pensioners which means that we are at a standstill pending the lifting of the restrictions on the movement of older people. However, individuals are able to continue some activities such as knitting or preparing items on a single person basis although we are not as yet able to collect and pack any items.
The work of AN has not stopped during this period of emergency. We did reduce the hours of work, but we kept the office and shop open. During the first part from this emergency period very few people were coming to the office to ask for help; the same at the shop, very few customers, but in the last week a lot of people came especially to the office.
We have some stock of clothes in the office that we are able to donate straight away. We were able to buy some bulk food like pizza, yogurt and ice cream at a very convenient price. We also bought a chest freezer where we keep the food and are able to donate it to families and Casa Neemia. At Casa Neemia the boys (most of them are isolated) have been helpful working and seeding the garden, but struggling to cope with one another after being all together there for long time.
In the warehouse we have left some summer boxes for the shop (not many) but the stock is mainly winter items – blue fleeces (Shoe Zone), and some white duvets and knitted items. This year we seeded the land at the warehouse with maize, which will be milled into flour in the autumn. We estimate that in this circumstances, without receiving a lorry with goods we may cope till middle of June (office and shop).
This month's featured photos
Preparing for the new growing season
Pizza and Ice-cream
Masks are in fashion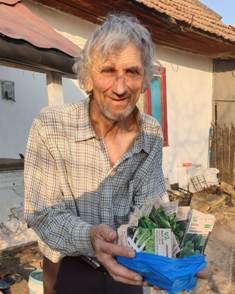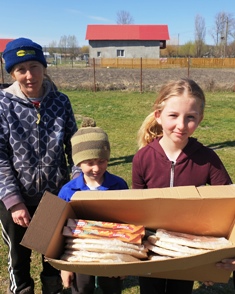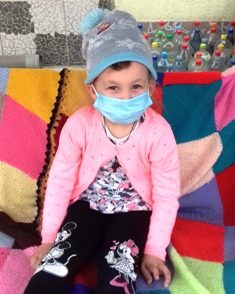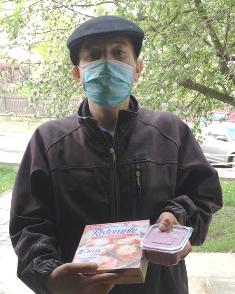 Photo Gallery: Click on any of the photos for enlargements, more details or similar photos.

Last month's performance statistics
These statistics give a snapshot of our aid-related activities last month.
Categories
April
2020
Same month
last year
% Change
year on year
Registered Beneficiaries:
joiners / leavers
9 / 33
17 / 43
Beneficiaries this month:
89
182

-49%

Number of Donations:
105
207

-51%

Total Value of Donations:
(£ equivalent)
2,062
6,254

-67%

Exchange Rate,
RON to GBP
5·5208
5·5160

0%
Stats notes:
– Joiners are new registrants this month, Leavers are are those whose latest recorded donation was 12 months ago.
– Some households may receive more than one donation during a month (eg, repeat donations of food).
– Items shown as 0 or as "…" are awaiting final returns for the month.
---
Previous month's news, April 2020