The Horley team has assembled the next load. We hope that it will leave Billingshurst in June, once the documentation is complete. We await anxiously permission to continue packing and sorting at Horley Baptist Church on Friday afternoons. In south Wales, some 500 boxes are awaiting the outcome of the first load; hopefully this will clarify any need for repacking or relabelling them. Both teams have many helpers and donors wishing to unload their homes of accumulated items, and we look forward to re-establishing our collecting and packing activities.
In Dorohoi, AN has completed the compilation of the documents for the load from Billingshurst, and has submitted them to the customs authorities in Iasi. We are waiting for feedback and approvals, and then we can convey the authorisation to the Horley team. The experience of this first delivery under the new arrangements will help to determine how to move forward with future consignments.
We have been able to continue with our help for local people within the terms of the relevant restrictions, albeit at a reduced overall level compared with previous years due, in part, to declining stocks of suitable items. Despite this, we were able to help 142 families last month. We received some cash sponsorship, which was used to provide food for the most needy, and also some goods in kind from other organisations, which also helped to provide a level of donations that might not otherwise have been possible. The Romanian government is planning to lift most restrictions during June, but we cannot anticipate a return to the previous levels of activity just yet.
In common with the rest of the 'block', our office has received a facelift comprising new insulation and a coat of fresh paint. This expenditure was effectively 'non-optional' but we were able to continue operations throughout the period of the works and it did help the contractors to keep working!
Residents at Casa Neemia have continued to help with the preparations for this year's crops and the maintenance of the grounds at the warehouse. This has the benefits of keeping them occupied, training them in useful work and improving their prospects for future employment. Finally, they get to eat the fruits of their efforts.
In another area of Romania, RoAF has given a final donation to 'ASPA One Life' in Arad to help with renovations to the new ambulance station they have in Vladimirescu.
---
This month's featured photos
Food and furniture
Office renovations
Training the gardeners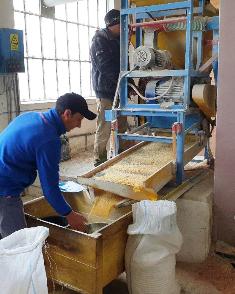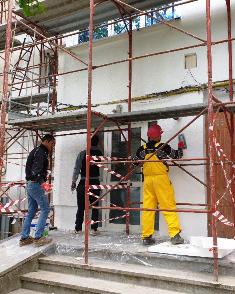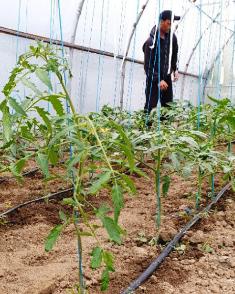 Last month's performance statistics
These statistics give a snapshot of our aid-related activities last month.
Categories
May
2021
Same month
last year
% Change
year on year
Registered Beneficiaries:
joiners / leavers
12 / 16
11 / 31
Beneficiaries this month:
142
114

25%

Number of Donations:
164
129

27%

Total Value of Donations:
(£ equivalent)
1,277
3,668

-65%

Exchange Rate,
RON to GBP
5·7069
5·4617

4%
Stats notes:
– Joiners are new registrants this month, Leavers are are those whose latest recorded donation was 12 months ago.
– Some households may receive more than one donation during a month (eg, repeat donations of food).
– Items shown as 0 or as "…" are awaiting final returns for the month.
---
Previous month's news, May 2021