Our UK teams have been encouraged by the response to the new packing season. Some new donors have brought items to the Horley packing team whilst in south Wales the goods are piling up. More packing volunteers required!
We are looking at sending a lorry on Saturday 16th of December. There are 12 pallets (half a load) ready now; we will send the load even if the lorry is not full as it is better for the items to be in Romania rather than stuck in our warehouses in the UK. Hopefully the weather will still be suitable for the journey. The 15th December will be the last formal packing day for this year.
In Romania we were very grateful to receive another load of aid items in mid-October. As we have come to expect, there was a slight hiccup with the documentation – on this occasion it was necessary to provide a certificate of EU conformity for the wheelchairs in the load. With goodwill on both sides this was resolved promptly but it does give an opportunity to emphasise that items need to be complete, clean and, where necessary, appropriately documented.
Our land at the warehouse has produced another valuable crop. this year it was sunflowers. The seeds were pressed to give several hundred litres of oil for donation to our needy families. The oil has been described as being of better quality than shop-bought alternatives and is highly sought after by visitors to the office. The pressing process also produces a by-product in the form of the flesh of the seeds; this is shared with households who are raising domestic fowl.
The pallets that are used for transporting the aid do not go to waste. Clean pallets can be repurposed to create sheds for firewood or livestock; broken pallets are offer to households for use as firewood.
Recently we received a request for an update on our activities. A report describing our activities during the first nine months of this year has been prepared and is now available on our website at https://www.roafan.org/report2023/.
This month's featured photos
Preparing the next load
Resources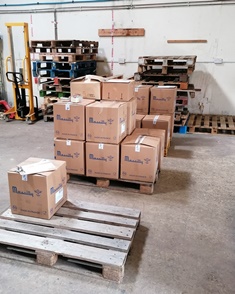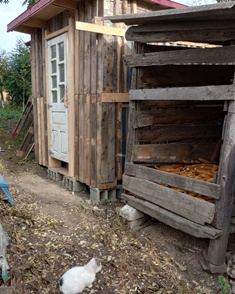 Last month's statistics
Categories
October
2023
Same month
last year
% Change
year on year
Registered Beneficiaries:
joiners / leavers
16 / 40
20 / 35
Beneficiaries this month:
145
180

-19%

Number of Donations:
225
180

25%

Total Value of Donations:
(£ equivalent)
2,111
2,044

3%

Exchange Rate,
RON to GBP
5·7230
5·6577

1%
Stats notes:
– Joiners are new registrants this month, Leavers are are those whose latest recorded donation was 12 months ago.
– Some households may receive more than one donation during a month (eg, repeat donations of food).
– Items shown as 0 or as "…" are awaiting final returns for the month.
---

Previous month's news, October, 2023
This Month's Prayer Notes
..
Link to this month's Prayer Notes